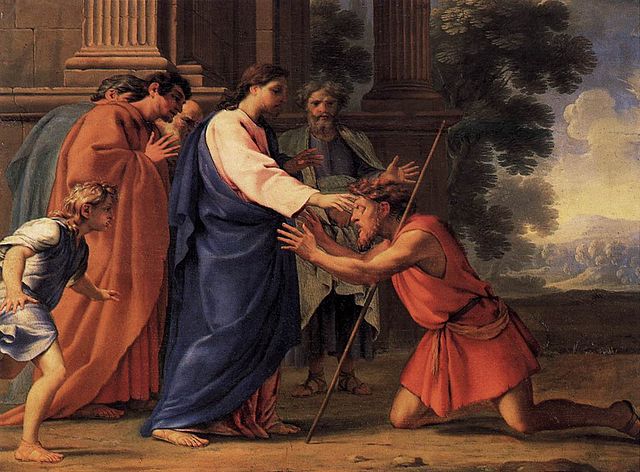 Devotions for Week of Quinquagesima
Devotions for Week of Quinquagesima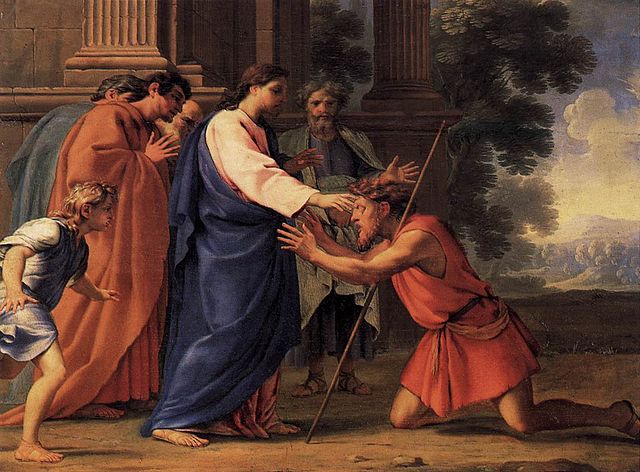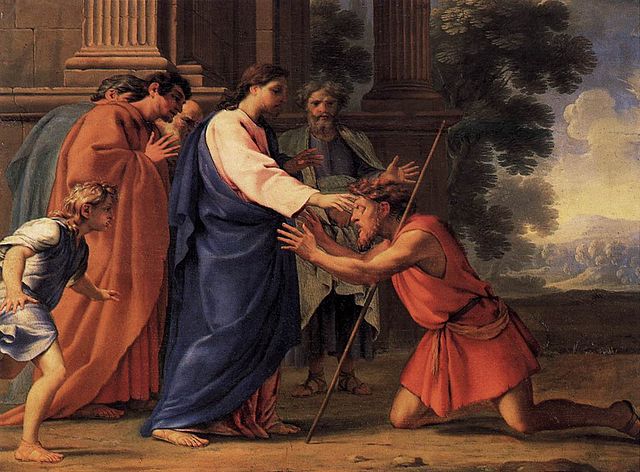 Week of Quinquagesima
First recite the Ten Commandments, the Creed, the Lord's Prayer, and the weekly section of the Small Catechism. Then read the Proper and assigned Scripture reading followed by the devotion. Conclude with singing the hymn of the week.
Weekly Catechism section: First Article of the Creed (LSB 322)
Hymn of the Week: Let Us Ever Walk With Jesus (LSB 685)
Septuagesima is the Latin word for Seventy. It means that Easter Sunday is within seventy days. This also means that this is the third Sunday before Lent — the forty days that lead up to Holy Week. Next Sunday is called Sexagesima (within sixty days of Easter), and the Sunday after that is called Quinquagesima (within 50 days of Easter).
Monday – Introit (Ps. 31:2-3, 1, 5, 9, 16)
Read Psalm 31.
"Save me for your mercy's sake!" We pray this in the Introit, which comes from Psalm 31. God shows mercy. This is what kind of God we have. His mercy is not what we tap into with our own acts of devotion and obedience. No, his mercy is revealed to us in his work of salvation. This is why we may pray, "Save me!" We can pray with all boldness to God, "Save me for your mercy's sake!" Christ, who bore our sins, spoke the words of this Psalm when he cried out, "Into your hand I commit my spirit." (Ps 31:5; Luke 23:46) So, being united with Christ in a death like his through Baptism (Rom 6:5), he gives us his Holy Spirit to cry to our Father for mercy (Gal 4:6). And he promises to hear us.
God's mercy is revealed in Christ's righteous and obedient death in our place. So we pray in the Introit, "deliver me in your righteousness!" Jesus is our righteousness (Jer 23:6). We therefore call upon the name of our Lord Jesus, who saved us from sin, death, and hell by his own death on the cross. Therefore we pray, "for your names sake, lead me and guide me." He leads us in the paths of righteousness for his name's sake (Ps 23:3). This is the very name that saved us when it was given to us in our Baptism (Matthew 28:19), the name that the blind beggar called upon for mercy. This is Jesus, the Son of David, true God and true Man — our King who brings salvation. Upon his name we rest in God's mercy, a sure rock and fortress against all sin and evil. So we boldly pray:
In you, Lord, I have put my trust;
Leave me not helpless in the dust,
Let me not be confounded.
Let in your Word
My faith, O Lord,
Be always firmly grounded. Amen.
+++
Tuesday – Old Testament Lesson (1 Samuel 16:1-13)
Read 1 Samuel 16.
"The LORD does not see as man sees; for man looks at the outward appearance, but the LORD looks at the heart." This is what God said to Samuel when he sent him to the house of Jesse to anoint the next king of Israel. Man judges by outward appearances. This is just the way it is. Those who boast in being able to look within someone's heart and sense whether someone is a good person are just gassing off. You can't look into someone's heart unless you are God. This is simply the way it is. Man must judge by outward appearance. If you are going to pick a king who will not only rule but also lead the armies in battle, then you don't want some skinny teenager. That's a fact. There is a reason why the U.S. Constitution requires candidates for president to be at least 35 years old. So the moral of the story isn't that we should try harder to look into someone's heart. No, it is that we can't do this. But God does. And the only way that we can see as God sees is through faith, given to us by God in his Word.
Faith does not cling to what our eyes see. It clings to what God sees. It clings to God's Word, which pierces through the heart with the power of his own Spirit. We learn about this faith from the example of David. David had no crown. He had no throne. He had no army. But he was anointed with the oil of God's own prophet. He had God's Word. And it would be a number of years before he would actually ascend to the throne that God promised him. And it would be about a thousand years before God would accomplish his great promise through this royal seed of David. Just as it required faith to see God's promise to David, so did it require faith to see how the promised Savior, the Son of David, would ascend to his throne. He would go to Jerusalem to be the sacrifice. He would die for sinners. And he would rise on the third day. This is not the judgment of man who looks on the outside and thinks only about earthly benefits. It is the judgment of God who sees our heart's corruption and knows what we really need.
+++
Wednesday – Gradual (Psalm 77:14-15)
Read Psalm 77.
Have you ever been worried that your close friend, your parents, your spouse, or another loved one was angry at you? Perhaps you sat up worrying and wondering what it might be. What about with God? In Psalm 77, the Psalmist says that when he remembered God he was troubled (Ps 77:3). He goes on to wonder whether God's mercy has run out. He is on the brink of despair over God's friendship. But then he remembers God's works of old. So our Gradual recites verses 14 and 15: "You are the God who does wonders; you have declared your strength among the peoples. You have with your arm redeemed your people, the sons of Jacob and Joseph."
When you worry if someone close to you is angry with you, then maybe you put the thought away by recalling how this person has been kind and charitable to you in the past. This can give you some kind of assurance that this person would likely not hold a petty grudge against you. Yet, as we know, this sadly isn't always the case. But it certainly is the case with God. He doesn't change. His works testify to who he is. He saved his people, Israel, out of slavery in Egypt. He led them like a flock through the wilderness by the hands of Moses and Aaron. God was always faithful, patient, and generous to his people, Israel. And he continues to be faithful, patient, and generous to all people, causing it to rain on the just and the unjust alike. God's intention has always been to send his Son into the flesh, to be bruised for our offenses in order to destroy the devil's power over us (Gen 3:15; Isa 53:5). So perhaps you find yourself wondering the same thing with the Psalmist. Has God's mercy run out? This often accompanies other earthly worries. When such cares and worries come to mind, then do what the Psalmist does. Remember what God has done. The Son of Man was delivered to the Gentiles and crucified for your sins, and he was raised on the third day in order to declare you righteous before the Father. This is the same Lord who opened the eyes of the blind. His works speak for themselves. He has always shown mercy. It has not run out. It endures forever.
+++
Thursday – Epistle (1 Corinthians 13)
Read 1 Corinthians 13.
The Christian life is shaped by love because it exists by faith. If the Christian life's existence depended on our works of love then all our angelic speaking would be nothing but a noise to God. Our understanding would be vain knowledge. Even our faith, however strong we might imagine the virtue within us to be, would be nothing. Our charity to the poor would be nothing but hypocrisy while our discipline of our bodies through fasting and even martyrdom would accomplish nothing. Without love these virtues — call them faith, hope, or even love — are nothing. Such love, which God bestows, is the shape of the Christian life. This is because the Christian life only exists by faith.
The Christian life exists by faith, because we are saved through faith apart from works. We are declared righteous by God through faith in Christ apart from the works of the law (Rom 3:28). We live by faith in the Son of God who loved us and gave himself up for us (Gal 2:20). And because we have received by faith the fullness of Christ's love, such faith works through love (Gal 5:6). Faith is not the shape of the Christian life; rather, love is. Faith is already shaped and formed by Christ and his righteousness, which it has received in full before the tribunal of God. But just as faith receives the love of Christ, such love is carried out in the Christian life. The Christian is therefore matured and formed into the image of the Son as he bears the afflictions God places on him. As St. Paul says, love bears all things. He learns to put the best construction on what his neighbor does, letting God be the judge; love believes all things. He then learns to delight not in the vain works of men, but in the truth, which alone sets us free. Such love remains incomplete in this life, as we continue to be shaped, growing in understanding, seeing in part as in a mirror dimply, and looking forward with a sure hope to what will fully be revealed to us. Therefore, love continues to return to faith and find consolation in the fact that we are presently fully known by our Lord. It is only in this way that we learn that love is the greatest gift.
+++
Friday – Alleluia (Psalm 100:1-3)
Read Psalm 100.
Right before we enter Lent where our Alleluia is absent and we begin to contemplate the suffering and death of our Lord for our salvation, learning to deny ourselves in repentance and faith, our verse for Quinquagesima is one of thanksgiving. We should learn from this that the season of Lent is not one of our own meritorious suffering or repentance. We are not left without confidence when we look toward the cross of our Lord, Jesus. Jesus proves this by healing a blind man immediately after he predicts his death and resurrection for the third time. He is heading toward Jerusalem with joy and thanksgiving, to bear our own spiritual blindness, even as he does so with the joy of knowing and seeing the Father face to face.
So we sing from Psalm 100: "Make a joyful shout to the Lord, all you lands. Serve the Lord with gladness." When Jesus announces that he is heading to Jerusalem to be scourged, insulted, and put to death, this is a joyful shout to the Lord, which he makes on behalf of all nations for whose sins he would make atonement. He is doing this in obedience to his Father, serving the Lord with gladness. "Come before his presence with singing; know that the Lord, he is God." As Jesus approached Mount Calvary, he was drawing near to the inner part of the temple, in the presence of God, to offer his own blood on the mercy seat. This is what it means to know that the Lord is God. It is to know the atonement of his only begotten Son. "It is he who has made us, and not we ourselves." All merit belongs to the Lord, whether in our bodies or in our souls. This is true especially in his work of salvation. As he says in Isaiah 63:3, "I have trodden the winepress alone, and no one from the nations was with me." So we sing, "We are his people and the sheep of his pasture." The Lord is our Shepherd (Ps. 23:1), and as our Shepherd, he lays down his life for the sheep (John 10:11). This is the basis for our rejoicing and thanksgiving as we prepare to meditate on this gracious act of our Lord and God, Jesus Christ.
+++
Saturday – Gospel (Luke 18:31-43)
Read Luke 18.
Doctrine is always relevant to life because both doctrine and the Christian life include faith. In doctrine we are strengthened in the faith. In life we walk by faith. So again Jesus teaches us that sight must submit to faith. When he explained his death for the third time to his disciples, his saying was still hidden from them, because the benefits of his suffering and death cannot be perceived except through faith. Yet the blind man saw very clearly, because, by God's grace, he trusted in Jesus. There is therefore an appropriate parallel between Jesus' theological lecture to his disciples and his healing of a blind beggar. In both cases their is the overarching theme of death and resurrection. In both doctrine and life there is humility and exaltation, fear and confidence, meekness and boldness, repentance and faith. There is blindness to ourselves and sight in the brightness of Christ's mercy.
We learn from Jesus' doctrine and from the example of the blind man's life that we walk by faith and not by sight. The eyes turns away from the crucifixion. Faith sees our God bringing salvation. The carnal mind refuses to believe the resurrection despite the sure testimony of many witnesses. Faith rejoices in the righteousness and life that it proclaims. By faith the blind man saw the Son of David who would show mercy, mercy that would drive him to bear the stripes of sinful man and be counted as a transgressor (2 Sam 7:14) so that in him we might become the righteousness of God (2 Cor 5:21)." Therefore, we are given the example of the blind man's humility before Christ. But even more, we are encouraged by his faith with which he had the boldness to cry out to Jesus even while being shushed by the world. While being counted as dead to his own reason and senses, he was alive through faith in Christ. So while we die to our sinful selves we see our salvation through the dim cloud of faith in Christ as we look to the final resurrection where we will see him face to face. Until then, may his death and resurrection be both our doctrine and our life.
+++
685 Let Us Ever Walk with Jesus




Text: © 1978 Lutheran Book of Worship. Used by permission: LSB Hymn License no. 110001966
Tune: Public domain