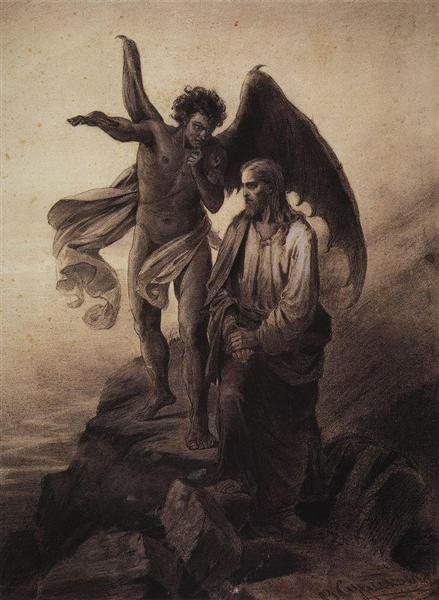 Week of Invocabit
Week of Invocabit
First recite the Ten Commandments, the Creed, the Lord's Prayer, and the weekly section of the Small Catechism. Then read the Proper and assigned Scripture reading followed by the devotion. Conclude with singing the hymn of the week.
Weekly Catechism section: Secondt Article of the Creed (LSB 322)
Hymn of the Week: A Mighty Fortress Is Our God (LSB 656)
Monday – Introit (Psalm 91:15-16, 1-2, 9-10, 13)
Read Psalm 91.
Invocabit is Latin for, "He will call." It makes up the first words to our Introit, which is from Psalm 91:15-16, "He shall call upon Me, and I will answer him; I will deliver him and honor him. With long life I will satisfy him, and show him My salvation." These words are spoken of Christ. Jesus called upon God, "Into your hands I commit my spirit" (Ps 31:6; Luke 23:46) as he breathed his last for our salvation. And God answered him by raising him up on the third day. Jesus, in dying for our sins, committed himself to God in perfect obedience (Phil 2:8) in our place (2 Cor 5:21). Therefore, we can apply these words to ourselves as well.
Jesus knew how God would answer his cries. He would raise him up on the third day to his glory (Rom 6:4) so that we also may walk in newness of life and enjoy the salvation that God has revealed through Jesus' resurrection (1 Pet 3:21). The devil tempted Jesus with the words of this Psalm:
For He shall give His angels charge over you, To keep you in all your ways. In their hands they shall bear you up, Lest you dash your foot against a stone. (Ps 91:11-12)
attempting to make Jesus tempt God who made this promise to him. But Jesus rebuked the devil. He conquered the attacks of the serpent, and so that prophecy of this Psalm is fulfilled: "the serpent you shall trample under foot." (Ps 91:13). We therefore, through faith in Christ have victory over the same evil foe who lies conquered under our feet (Rom 16:20).
Because Jesus was obedient in true humility to God, he won for us salvation from sin and wrath as well as victory over all temptations. So whenever you are tempted to sin against your neighbor or doubt God's goodness, read Psalm 91, and apply it to yourself, because Christ has won for you this blessing of spiritual protection. Now, in the day of salvation, God desires to help you.
+++
Tuesday – Old Testament Lesson (Genesis 3:1-24)
Read Genesis 3.
The Old Testament Lesson from Genesis 3 gives us the entire reason for the season of Lent. Lent is about Jesus heading to the cross to bear our sins and God's wrath, and to destroy the devil's power over us. It begins with him overcoming the devil's temptations. It continues with various acts of power over the devil and his angels. Jesus suffered for us, St. Peter says, leaving us an example for us to walk in (1 Pet 2:21). First, Jesus suffers for us. The result of this is that we have an example when we must face temptation. The third chapter in Genesis sets the stage for God's great act of redemption. The devil tempted Adam and his wife into sin. They rebelled against God. God punished them with afflictions that we still feel to this day, such as agonizing work, pain in child birth, and other troubles. But God promised to send a Savior to be born of a woman. This Savior, or Seed of the woman, would be bruised by the devil, but in doing so he would bruise the devil's head (Gen 3:15).
As we consider how we are tempted by the devil, we should learn our own unique weaknesses. The devil likes to take advantage of these. He convinces us to be discontent with what God has given us, just as he did with the woman, telling her that she would be like God by knowing both good and evil. The devil also went after the woman first, not Adam. Adam was told by God directly not to eat of the tree of knowing good and evil. He was called to nurture his wife in the truth of God's Word. The devil bypassed Adam, catching Eve off guard. Adam's good desire to please his wife was corrupted into a selfish desire to pander to her carnal desires. The devil deceives us all into wanting something more than God's goodness. So we see how Jesus makes himself weak, suffering hunger in the wilderness. sympathizing with those who are too weak to resist the devil's craft. And he overcomes the devil by his obedience to the Word. So through Christ we not only have a sure victory over the devil; we also learn faith in God's Word. God's Word is sure. It will never deceive us.
+++
Wednesday – Gradual (Psalm 91:11-12)
Read Psalm 91 again.
Probably one of the best parts of this first Sunday in Lent is the Gradual, taken from Psalm 91: "For He shall give His angels charge over you, to keep you in all your ways. In their hands they shall bear you up, lest you dash your foot against a stone." These are the words spoken by the devil to Jesus when he tried to get Jesus to test God. The devil took these words of Scripture out of context. The verse immediately following tells of how Christ would trample on the head of the serpent. This is the pride the devil has. Such arrogance! The very words of God by which Satan is condemned and sinners are saved, the devil tries to use against Christ, the savior of sinners. But Jesus didn't argue with him. He didn't engage in an exegetical discussion on Psalm 91. Instead, he rebuked him with a different word from God: "You shall not put the Lord your God to the test!"
The devil has no right to speak God's Word. This is why Jesus would not take the bate. And this is why we shouldn't either. The church, in her freedom, has placed these words of Scripture in the Gradual as a way to snatch them back from the devil. You can't have them, Satan! You have no right to them! These words are God's sweet promises to us. They are first spoken concerning the Son of God who would receive the ministry of the angels as he conquered the devil's power over sinners. And they are therefore a great promise to us through Christ, that we also have the ministry of God's angels. As the Spirit brought Jesus into the wilderness after his Baptism, he leads us into the wilderness after ours as well. This wilderness is called the world where the devil's lies run rampant. Here you are taught to trust in everything except for Jesus. But we have the same Baptism as Jesus. This means we have the same Spirit who gives us faith in Jesus and strengthens us in the same. And this means that we have the same angels who guard us against all evil, both spiritual as well as physical. So while the devil tries to use and twist Scripture, we won't get intimidated. We won't let him have Scripture. Instead, we will, by God's grace in Christ, confess it! God help us do this! Amen.
+++
Thursday – Epistle (2 Corinthians 6:1-10)
Read 2 Corinthians 6.
St. Paul admonishes us not to receive the grace of God in vain. What does it mean to receive God's grace in vain? It means that we don't make use of it. It doesn't mean that we don't pursue a certain career, fulfill a certain potential, or participate in a certain extracurricular activity. One does not receive God's grace in vain when he doesn't go on enough canvassing missions, attend enough ladies' and men's rallies, or take part in enough youth gatherings. God's grace is also not received in vain if you decide not to go to college. Rather God's grace is received in vain when you don't use it in your everyday life.
So what does it mean to make use of God's grace? It means to listen to God's Word and believe it. It means that we depend on God's mercy in every part of life, especially in the midst of temptation. A mother makes use of God's grace when, being tempted to long for a more glorious life, she takes refuge in the Word of Christ who by his death adorned her as a blameless bride who bears fruit before her God. A worker struggles to do his duty under an overbearing boss, tempted to shortchange him or dishonor him in some way. He makes use of God's grace when he relies on Christ who trampled the devil underfoot by submitting to a corrupt government all the way to his death on the cross. A congregation is tempted to water down its doctrine in order to please the hostile world, but they do not receive the grace of God in vain when they confess the truth, praying that God would keep them faithful. When a guilty conscience finds comfort in the forgiveness of sins for Christ's sake, then it does not receive the grace of God in vain. God's grace isn't some substance by which we make ourselves acceptable. No, we don't contribute to making anything acceptable before God. Instead, God declares that now is the acceptable time. Now is the day of salvation. His grace is none other than his favor toward us in Christ who conquered the devil even as his heel was bruised by the venom of sin and death. He who depends on this does not labor in vain (1 Cor 15:58).
+++
Friday – Verse (Psalm 91:1, 4, 15-16)
Read Psalm 91 again.
When we sing Psalm 91 we tend to immediately think of ourselves. We dwell in the secret place of the Most High. We shall abide under the shadow of the Almighty. This is certainly our hope, after all. We want to go to heaven even as we presently want to be under the protection of Almighty God. But before we refers these words of the Psalm to ourselves, we should learn to refer them to Christ. Christ, after all, is the only begotten Son of the Father who is eternally in the bosom of the Father (John 1:18). Christ alone dwells in the secret place of the Most High. No one has ascended to heaven but he who came down, the Son of Man who is in heaven (John 3:13). It is through Christ, who dwells with the Father from everlasting to everlasting, that we can say with confidence that the Lord will cover us with his feathers. In fact, these are the very arms of Christ who weeps over Jerusalem saying (Luke 13:34), "How often would I have gathered your children together as a hen gathers her brood under her wings, and you were not willing!"
If we first read this Psalm as referring to Christ, then we can understand not only that Christ has dwelt in the secret place of the Most High from eternity, but also that he has humbled himself to the point of needing what we need. He humbled himself, bearing the temptation of the devil, so that he might overcome all sin and temptation in our place. And how did he do this? By invoking God's Word! By taking refuge in the Lord! By calling upon his Father! St. Peter says that Jesus commended himself in his suffering to God who judges justly (1 Pet 2:23). By doing this, he rendered obedience in our place, which avails before God under every temptation we must bear. So just as Jesus was shown the salvation and long life in his resurrection, he shares this with those who find refuge in him. All the while, he gives us an example of faith as we learn from the one who bore our sorrows how to commend ourselves to the shelter of the Almighty. After all, he never needed this for himself. When the angels were sent to minister to him in his hunger and affliction, they were sent for our sake.
+++
Saturday – Gospel (Matthew 4:1-11)
Read Matthew 4.
The first time the gospel was proclaimed to sinners it was spoken to the devil. God said to the devil in the presence of Adam and his wife, "I will put enmity between you and the woman, between your seed and her seed; He shall bruise your head, and you shall bruise His heel." The seed of the woman is Christ, who was born not of a man's seed, but only of a virgin by the power of the Holy Spirit. His heel was bruised by the devil when his life was taken from him. But in giving his life he crushed the head of the devil. That is to say, he took all power away from the devil. And what is the power of the devil? It is sin. God rebuked the devil, and that was the first gospel lesson.
It follows that before Christ publicly proclaims the gospel of the Kingdom he first rebukes the devil in the wilderness. He strips him of all authority by taking away his allurements. The attraction of the human appetite is replaced with a desire for the Word. The charm of twisting Scripture is replaced with the clarity of Scripture, which proves our faith. And the charm of the world is replaced with true worship of God. Christ strips the devil of his kingdom and replaces it with the kingdom of God's Word. He rebukes the devil, and this is how he delivers to us peace with God and entrance into his kingdom. It follows then that the gospel is not sweet to our sinful nature. It is often taken as a sharp rebuke. And this is because our sinful nature is in league with the devil. It is therefore necessary to curb and crucify the sinful flesh, keeping it in check. This is why God still gives Adam and Eve crosses of chastisement. Eve must fight against her desire to rule her husband as he rules over her. Adam must earn his bread by sweat and toil. But such chastisement is not meant to make them despair, but to remind them that the devil has been rebuked. So if we feel the sting, it is only because our sinful flesh, with all its allies, is passing away. God has declared by his angel that the sinner must die, but no matter how bitter this decree is, faith rejoices in the midst of God's rebuke, because the devil was rebuked first.
+++
656 A Mighty Fortress Is Our God








Tune and text: Public domain